Company Profile
Wah Sun is a globally leading non-leather handbag original equipment manufacturers (OEM). Wah Sun Hand-Bag Factory Co. Limited was established in 1989 and started engaging in the handbag manufacturing and trading business. Our non-leather handbags are made of materials such as PU, PVC and various types of textile materials, which are mainly mass market and middle-end priced products. Our end customers are mainly well-known multinational fashion brand names headquartered in the U.S., Canada, Spain, Sweden, Japan and other countries.
According to the Industry Report conducted by an professional independent third party, we were the fifth largest non-leather handbag OEM globally, the largest non-leather handbag OEM in Cambodia and the second largest non-leather handbag OEM in the PRC in terms of sales revenue, and had a market share of 0.4% globally, 68.3% in Cambodia and 0.5% in the PRC in 2016.
To maintain our competitiveness, we adopt Quality Management System in manufacturing processes and documentation system. These systems show the dedication and consistent effort of our factory to provide excellent quality to client by continuously improving the productions. We are one of the biggest members of Garment Manufacturer Association in Cambodia (Member ID: 855).
Our modern machineries and well trained staff ensure prompt and regular deliveries. Our products will undergo strict and careful raw material inspection before production and strict quality control before leaving our factories. We have regular US and EU based customers and all of our products are in line with the requirements and regulations of EU countries and US.
We also commit to provide a safe and healthy work place, and to treat employees fairly and in full compliance with local laws. While we recognized that cultural differences exist and standard may vary by country.
We strive to offer competitive price and value-added after-sale service to comply with the goals of our customers. Please feel free to contact us for any enquiry or even schedule a visit to our main office in Hong Kong, or our factories in Dongguan in China and in Phnom Penh in Cambodia. We are more than happy to be at your service.
Dongguan Factory
Wah Sun Handbag Factory in Dongguan was established in 1990, relocating from Hong Kong to a much larger factory complex in Dongguan, Guangdong, China.
Our factory has the most up to date machineries and experienced workers. Here, we provide the one stop professional service, from designing, sampling, production, to delivery arrangements. To facilitate that we have more than 100 workers in product development and prototype development department, simultaneously developing new products and trends to suit our customer's need.
Our pledge is to provide the best quality products with reasonable price and on time delivery.
All of our factories comply with the applicable law and regulation of Chinese government as well as US and EU requirements. We will adhere to the national law requirements regarding protection and preservation of the environment.
Cambodia Factory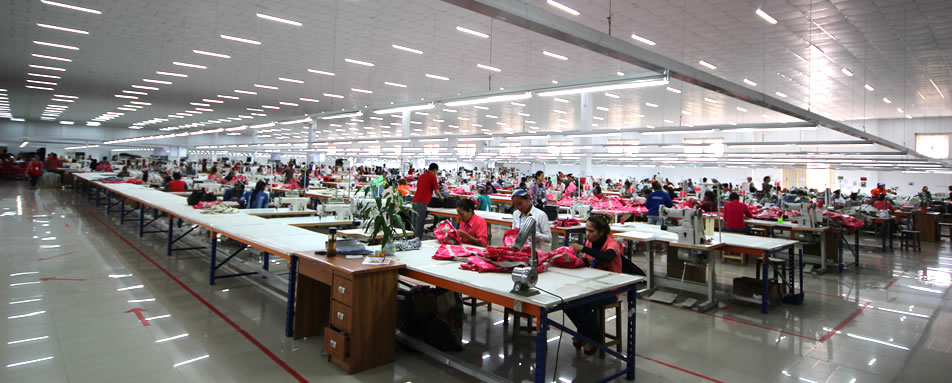 We established our Cambodia Factory in 2013. It is situated at Bostaney Village, Kaheng Commune, Samrong Tong District, Kampong Speu Province, Cambodia. It has became our major production facility, because of (1) the preference of our customers, which we believe is due to the preferential tariff treatment of the United States, member states of the European Union, Canada and Japan and (2) the overall operating costs in Cambodia, including but not limited to labour costs, are lower than those in the PRC.
Our Cambodia Factory comprised of production plants, warehouses, office and ancillary facilities such as dormitories and canteen with aggregate site area of approximately 31,712 sq.m.. The production plants and warehouse have an aggregate site area of approximately 28,407 sq.m.. Our Cambodia Factory has 23 production lines and a total of over 4,500 employees.
The Cambodia Factory mainly manufactures products for fast fashion brands end customers.

We are committed to provide customers with high quality products and value. Our factory complies with all applicable legal standards and requirement of Cambodia, as well as to those of USA and EU markets, where applicable. We will adhere to the national law requirements regarding protection and preservation of the environment.
We are one of the biggest members of Garment Manufacturer Association in Cambodia (Member ID: 855).
Please contact us for further details.